ISSO is hosting a virtual "Understanding Your Rights as an International Student, Scholar, or Postdoc" event on Wednesday, October 28th from 5 – 6:30 PM. During this virtual information seminar, our panelists will discuss the rights that an international student, scholar, or post-doc has in the United Students, and also share information about what to expect with the upcoming U.S. Presidential election, and how to share one's voice without jeopardizing their immigration status. The seminar will also include an open 30 minute Q&A with the panelists. This is a very timely, relevant, and important conversation to have! All international students, scholars, are postdocs welcome to attend this seminar, as well as any staff members that are interested in hearing the presentation.
Panelists:
· Paul Johnson, Director of Student Legal Services
· Natasha Greene, Engagement and Inclusion Officer
· Kat Worley, Senior International Student Adviser
· Elliot Uhl, Senior International Student Adviser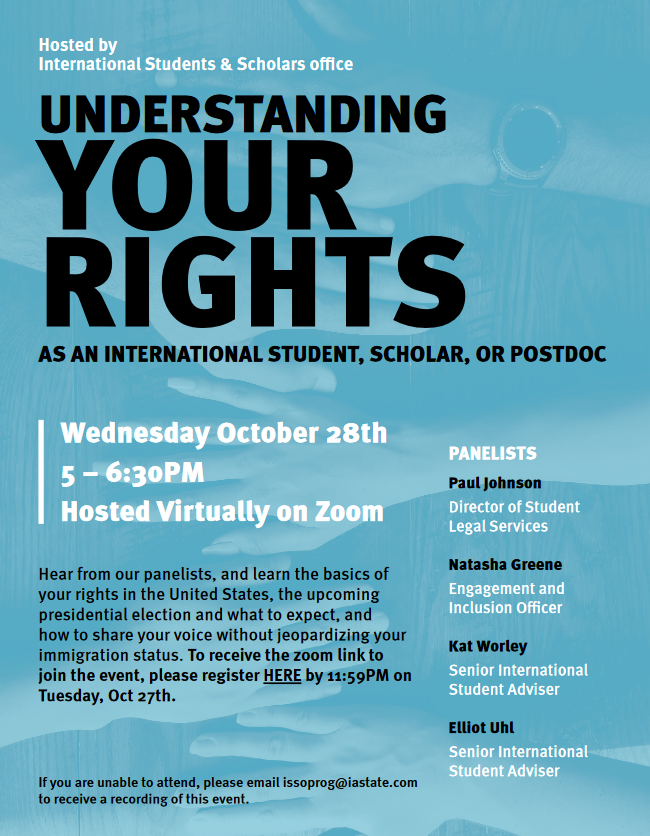 If you are interested in attending, you can also fill out the registration form and just click on "ISU Staff/Faculty Member" to receive the zoom link.